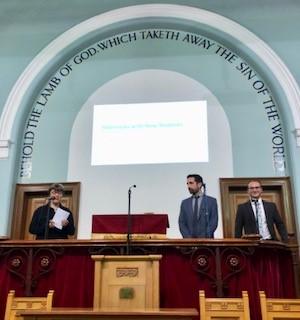 The Commencement Service is a special event in the calendar of the Irish Baptist College, particularly for new students. Last Tuesday evening was no exception despite the fact that the numbers were greatly reduced due to COVID. The College students and staff attended the service in Tobermore Baptist Church while many friends watched on Facebook Live. Instead of singing, we listened to the words on YouTube; instead of sitting together, we sat two meters apart; instead of having supper together, we stood outside in the cold. But none of these things disrupted our fellowship.
After Pastor Alan Dundas welcomed us and prayed the Principal gave an update on the College (which included a mention of the new IBC logo). Davy Ellison presented the new first year students and Sarah Dalrymple interviewed Chris Banks and Alex Stephenson. Chris has just started the Preparation for Ministry course while Alex has embarked on his MA. David Luke prayed for our students, both old and new, before David Cameron read John 21:15–22.
Pastor Steve Auld (Great Victoria Street Baptist Church) preached on this passage. He helpfully pointed out three lessons from Jesus's recommissioning of Peter:
All of our service for Jesus should flow out of our love for Jesus. We see that Jesus's concern is that Peter loves him (vv. 15, 16, 17).
Jesus sees what is really in our hearts, so strive to be authentic before God and men. Verse 17 shows us that Peter grasps this "Lord, you know everything: you know that I love you."
We need to march to the beat of Jesus's drum, not to the demands of everyone else. Peter began to get distracted by what would happen to John but Jesus told him "…what is that to you? You follow me!"
Following our final hymn, Dr Peter Firth closed in prayer. We are thankful to our friends at Tobermore Baptist for the use of their building and also to Steve Auld for his encouraging and challenging sermon.
If you missed the Commencement Service you can watch it all in the video gallery.